I think we can all agree that NTlite has a gargantuan amount of options (well done ).
But it'd really help useability (and sales) both for veterans, not having to specifically remember what every setting does off the cuff, and the uninitiated who are using NTlite for the first time, if the tooltips were a little more comprehensive.
Example. Under settings -> Delivery Optimization.
The options there are a little difficult to grok just from their names alone.
When reading them, what's the difference between "Windows Update" vs "Cloud Service" vs "BITS"? (rhetorical).
It seems reasonable to assume Windows Update
is
a cloud based service (i.e. you get updates off the internet) and so the "cloud service" is something extra? And the option "Windows Update and WSUS, without peering, or cloud service" reinforces this.
This confusion can be avoided. Just make the option names exactly the same as in the docs here:
This article provides a summary of references and descriptions for all of the Delivery Optimization settings.
And add this URL to the bottom description that shows up. Even if it's just text and not an actual hyperlink.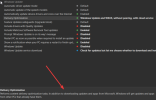 Crazy Idea: Open Sourcing
I have no idea how you build this software, but couldn't the docs / tooltips portion of it be open sourced? It's just text after all, so it should be as simple as a github repo with appropriate CI/CD process for transforms and linting?
Naturally all pull requests would need to be vetted by you guys, but it'd save you the time of having to write stuff yourself, update changes, find related docs online, etc.