Tested with Windows 7 and 10 with untouched ISO's getting the same issue so it doesn't seem to be something specific to the ISO used. Used NTLite 2.3.8.8890 (latest version).
With NTLite 2.3.7.8850 I don't get the crash.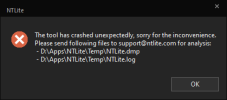 PS: Forgot to mention but the same problem doesn't occur when mounting boot.wim index 2 (Windows Setup).