Hi,
I tried to add a .reg file to a Windows 11 enterprise image and I can not complete the installation: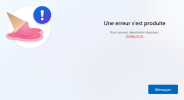 If I edit the image again and remove the .reg file, it is OK.
.reg file is:
Windows Registry Editor Version 5.00

[HKEY_LOCAL_MACHINE\SOFTWARE\Policies\Microsoft\Windows\System]
"NoLocalPasswordResetQuestions"=dword:00000001
Tried with, and without autounattend.xml file.
Not removing a single apps or changing any settings give the same result.
Thank you.