I integrated KB2864202 (Kernel Mode Driver Framework), KB2990941 and KB3087873 (NVMe support) and a generic usb 3.0 driver (
USB 3/XHCI driver stack for Windows 7
) into boot.wim and I get this error in VMware:

I think this is a typical error that occurs when the ISO file \sources\setup.exe is different from the \sources\setup.exe file in index 2 of boot.wim.
So I opened index 2 of boot.wim with 7-Zip and saw that several files there had been modified, including setup.exe.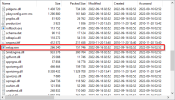 Why is NTLite modifying all these files?
PS: I forgot to mention that I tested the latest version of NTLite (version 2.3.8.8890), version 2.3.7.8850 and version 2.3.5.8714 (the oldest version I have backup) and I get the same result.
Last edited: