Polisher Extraordinaire
Staff member
This is on Windows 7 Professional, 64bit, en-us(for en-us/en-gb only) iso.
Files and folders may vary depending on components removed and operating system used.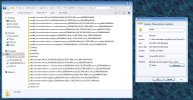 From (a rusty)memory, removed all languages except the base en-us(i need en-gb), Updates page select Custom cleanup, disabled all Compatibility options, settings.xml
Code:
<DisableProtections>true</DisableProtections>
attached Cleanout Winsxs template.xml
To be honest this will be better done on a captured wim because you will already have all your required updates .net c++ packages and apps/appx already baked in.
Last edited: